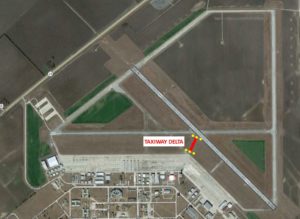 TAXIWAY DELTA PERMANENTLY CLOSED: As you are aware, we temporarily closed Taxiway Delta in April/May of this year to determine how the closure would impact operations. The taxiway was flagged by the FAA as a "hot spot" due to being adjacent to two intersecting runways and the fact that it does not conform with current FAA airfield design standards.
In the interest of safety, Delta will be permanently closed beginning August 30.
A NOTAM has been posted and lighted barricades are in place.
An updated configuration of the airfield will be top priority in the updated Airport Master Plan which should begin in a few weeks.
Please give us a call at (512) 216-6039 if you have any questions.