Strategically located in Central Texas, San Marcos Regional Airport is the only FAA designated reliever airport for both Austin-Bergstrom and San Antonio International Airports. Merging business, technology, and mobility together, the airport is a core economic driver creating jobs and new investment opportunities in one of Texas' fastest growing corridors.
As a premier destination airport, San Marcos Regional Airport serves as a hub of economic activity by providing quality business and aviation services, abundant space to grow, and opportunities for development.
The San Marcos Regional Airport is strategically located within the city limits of the City of San Marcos and within Caldwell County.  San Marcos is home to Hays County – the fastest-growing county in the country among counties over 100,000 residents.  San Marcos is also the region called "The Next Great Metropolis" by Forbes.  The nearby city of Lockhart, the county seat of Caldwell County, is located in the Growth Triangle and experiencing explosive growth and is just west of the airport.
Want to learn more about the communities experiencing exceptional growth within this mega region?  Greater San Marcos Partnership and Lockhart Economic Development; Kyle Economic Development and Buda EDC.  
Economic Development Articles:
San Marcos – Redbird Flight Simulators $2.2M Investment; Amazon Builds 1M SF Facility in San Marcos;  The Next Great Metropolis       
Lockhart – Iron Ox Expanding in Lockhart; Hershey Creamery Company Selects Lockhart for Distribution Center; Louisiana-based metal roofing manufacturer expands to Lockhart
The airport encompasses a total of 1,420 acres. Taking runway protection zones (RPZ) and building restriction lines (BRL) into account, there are approximately 433 acres of developable property. Over 200 of those acres are located on prime Highway 21 frontage.
Also pictured on the map below is the proposed layout for FM 110, a limited-access 65 mph road that will directly connect airport visitors to I-35 to the north and McCarty Lane (near the outlet malls) to the south. Construction is anticipated to begin in 2016 and will make accessing the airport faster and easier!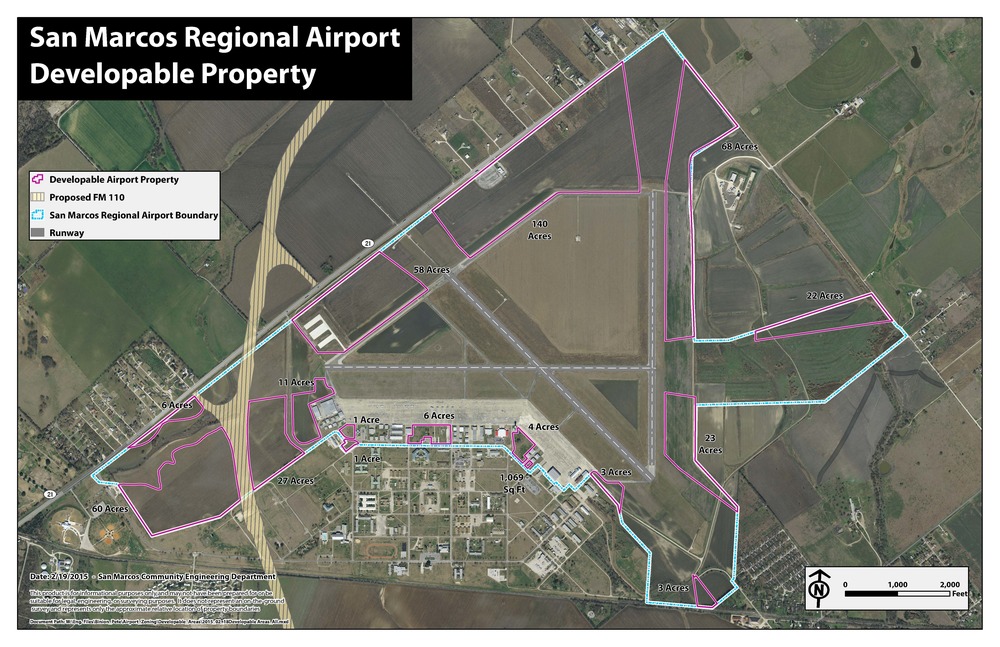 Click the map to download a PDF version.
In 2013, a new aircraft ramp and associated taxiway (Taxiway Kilo) were built as part of an FAA grant. This area, called the Kilo Development Area is located near the airport entrance and has all necessary utilities and keypad controlled gate access. These pad sites are available for immediate development.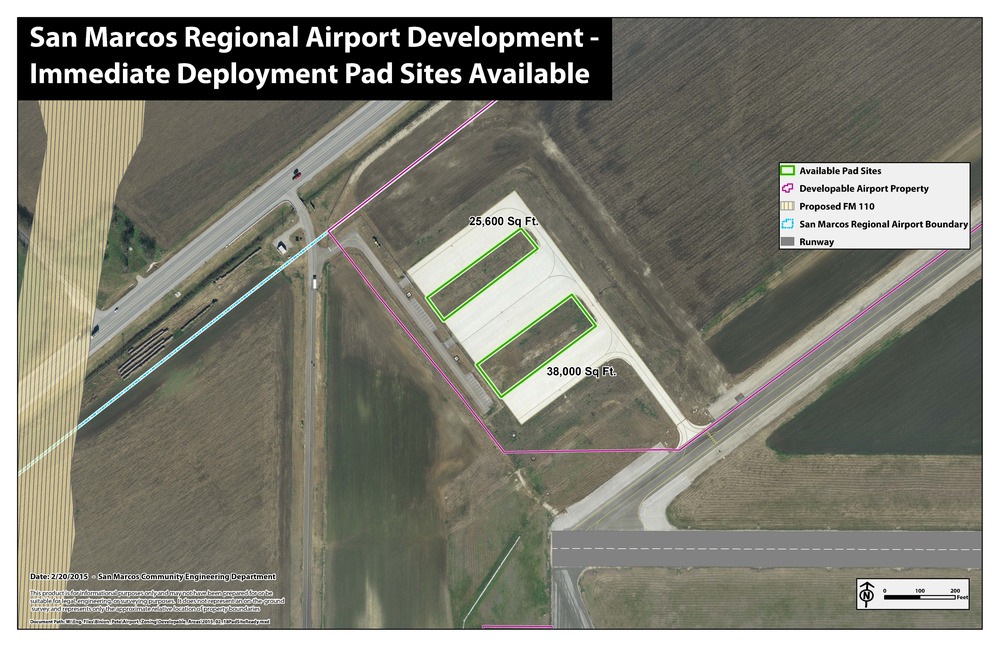 Click the map to download a PDF version.
Our land lease rates and terms are all negotiable and based on where on the airfield you plan to develop, the size of the development, and the length of the requested lease.
As a baseline, our rates range from $0.25-0.45 per square foot per year. The maximum land lease by state law is 40 years.
Whether your interested in building a 50'x50′ hangar for your Cessna 172 or you're looking to relocate your business, the best place to start is by filling out our Development Questionnaire.
Contact Cassidy Berenato with Texas Aviation Partners via contact page or at (512) 216-6042.