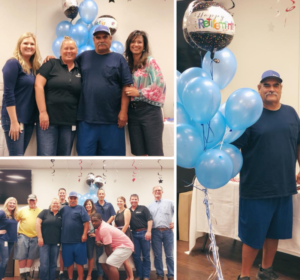 Please join us in wishing our wonderful facilities maintenance guru a happy retirement! Oscar has been with us for almost 4.5 years and we're sad to see him go but excited that he'll be able to spend more time with his family, playing golf, and watching the Cowboys play!
Thanks to everyone who was able to come by and help us celebrate! Best of luck, Oscar, and don't be a stranger!
In light of Oscar's retirement, we have contracted out the grounds and airfield mowing to LA Landscaping.  They will also be assisting with smaller airport maintenance projects.
Maintenance request procedures have not changed. If you have a maintenance request, please call Airport Management at (512) 216-6042 and we will arrange repairs with proper contractors.