What is the event? 
Cory Morrow's Go Wheels Up! Texas is an air show, auto show, concert and food festival to be held May 3-5, 2019 at the San Marcos Regional Airport.
What are the hours of the event?
 Friday, May 3          5:00 PM – 10:00 PM
Saturday, May 4      9:00 AM – 10:00 PM
Sunday, May 5        9:00 AM – 5:00 PM
Who is producing this event? 
Go Wheels Up Texas, LLC is a subsidiary of VAST Concerts & Events, LLC, an Austin, TX based company created solely for the purpose of producing this event. VAST stands for Volume – Up!, Altitude – Low, Speed – Fast and Taste – Local.
The company was founded by Texas music performer, Cory Morrow; fellow musician and event producer, Clayton Corn and his company, The Craftsmen Agency; medical doctor and music enthusiast, Dan Middlebrook; and media company, Real Content Solutions.
What is the expected attendance? 
Our planning is based on 30,000 over the course of the weekend. We expect the hours of highest attendance to be 2 PM to 6 PM Saturday, May 4. During those hours we expect between 18,000 and 22,000 spectators.
Where will the boundaries of the event be?
The event will take up most of the eastern section of the ramp beginning 775 feet east of the T-hangars all the way around to 150 feet northwest of Specialized Aero. Runway 8-26 and taxiways A and B will be closed beginning Friday, May 3 at 6:00 AM.
Please note this is a simplified version of the overall event layout. It does not show fencing or airfield closures and should only be used as a way to orient yourself with the event structure.
Green: Vehicle parking. Visitors will be guided from this area into the event via a controlled access point.
Red: General event boundary which will include ADA parking, static aircraft displays, classic car show, two concert stages, food vendors, kid zone, and vendor booths.
Yellow: All based and transient aircraft will be parked in this area from Monday, April 29 through Monday, May 6 (more information below).
Blue: Used for overflow of transient aircraft during the event or for larger transient aircraft who can not be towed to the yellow area.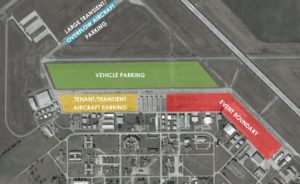 Will I be able to access my hangar throughout the weekend?
Certainly. If your hangar is within the boundaries of the event and you know you're going to fly that during the hours of the event, we respectfully request that you reposition your plane to the western ramp, weather permitting, for the duration of the event so that you can more easily get to and from the movement areas. If this proves impractical or impossible, please contact Chief of Operations, Clayton Corn at [email protected] or call him at 512-757-5991 to make arrangements.
Will I be able to fly my plane that weekend?
Outside of TFR times on each day, the airport will be OPEN to normal operations. However, a little patience may be required!
The map below shows all the areas where aircraft can operate UNDER TOW.
Aircraft may not be started until they reach the hot ramp located at the intersection of Taxiways Alpha and Charlie.
Aircraft will be towed by either Berry Aviation or Redbird Skyport. You will need to contact your preferred FBO directly.
Aircraft currently parked within the event boundary will need to be moved to the west side of the ramp (between Berry Aviation and the T-shelters) by no later than Monday, April 28.
Aircraft will be relocated beginning the week of April 15.
If you are parked between the Kerner T-hangars and Specialized Aero, and wish to move your plane yourself, please notify us by calling (512) 216-6039.
Aircraft will be moved back to the east ramp the week after the event.
Please note that for this inaugural event, aircraft camping is not allowed. However, we hope to add camping to future events! If you plan on flying in for the event, we recommend you arrive as early as possible and contact your preferred FBO to ensure there is space. Any group interested in flying in should contact Clayton Corn to make arrangements ( 
[email protected]
).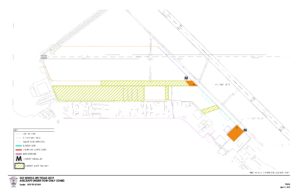 Anticipated NOTAMs include the following:
Special Event Notice (pilots to contact FBO prior to arrival for information regarding parking and ramp closures)

Tuesday, April 30 through Sunday, May 5

TFR for Airshow Practice (not published as a public event)

Friday, May 3 – 1:45PM to 5:30PM CST

TFR for Airshow

Saturday, May 4 – 1:45PM to 5:30PM CST
Sunday, May 5 – 1:45PM to 5:30PM CST

Runway 8/26 Closed

Friday, May 3 (6:00AM) to Sunday, May 5 (11:00PM)

Taxiway Alpha Closed

Friday, May 3 (6:00AM) to Sunday, May 5 (11:00PM)

Taxiway Bravo Closed

Friday, May 3 (6:00AM) to Sunday, May 5 (11:00PM)

Taxiway Juliet between Runway 8 and Taxiway Charlie Closed

Friday, May 3 (6:00AM) to Sunday, May 5 (11:00PM)

Taxiway Kilo Closed

Friday, May 3 (6:00AM) to Sunday, May 5 (11:00PM)
 SPECIAL NOTES:
Runway 8/26 between 13/31 and 17/35 may be used for aircraft taxiing
Taxiway Alpha will be open to aircraft under tow (more information below)
What if I'm inside the event boundary and I need to get multiple planes in and out for commercial operations?
First, let me state that we are here to shine a spotlight on the airport and your business and be as good of a neighbor as we can possibly be. We understand this event will be an inconvenience to a small number of airport tenants and we will do our level best to accommodate everyone's concerns and needs. If this is of specific concern to you and feel special arrangements need to be made, please contact Chief of Operations, Clayton Corn at [email protected] or 512-757-5991 to discuss.
How can I get tickets to the event?
Tickets can be purchased prior to the event at 
gowheelsup.live
 or at the gate the day-of the event. However, we encourage everyone to purchase their tickets early to help with the flow of both vehicle and pedestrian traffic. Ticket holders can opt to add the Lightning Pass on-site.
Current airport tenants may receive complimentary tickets for themselves and a guest by emailing Clayton Corn at 

[email protected]

 NO LATER THAN Friday, April 26.
Complimentary tickets are also available for 
volunteers
 and their guests. Be sure to let them know you have aviation experience so they can fit you into spots where you'll be closest to the action!
How is everyone going to get on and off the field?
Tenants will be allowed access to their hangars along Airport Drive, however, you will need a ticket/wristband to enter the event boundary. If you anticipate needing access to your hangar on any of the three days, please contact Clayton via email (
[email protected]
) for a vehicle pass to be placed on your dashboard.
When you enter the airport, stay in the right-hand lane. The parking attendants will see your pass on your dash and you'll be able to continue along Airport Drive rather than be forced to turn to parking.
We ask that during the event, your vehicle be parked inside your hangar or in a striped parking area. There will be a lot going on and we don't want anyone not familiar with the airport to think they can park next to hangars. We appreciate your cooperation with this!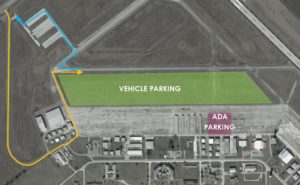 Where in the world is everybody going to park? 
We have contracted the farmland between the ramp and the runway extending from taxiway A, across taxiway B to runway 13-31. Additionally, the ramp space beginning 100' east of the T-hangars up to the western event boundary will be Preferred and ADA parking.
What if I'd like booth space to promote my business located on the airport?
We wholeheartedly invite you to participate! We're more than happy to provide booth space at no cost to any airport business who wishes to exhibit. You must abide by all applicable laws and provide your own booth and materials, we will provide electricity if needed. Please contact Clayton Corn at [email protected] if this is something you'd like to take advantage of.
What if I want to talk to somebody directly about my concerns?
Please feel free to reach out to Clayton Corn at 512-757-5991 at any time but be advised that he has no direct authority over airport operations. If you have questions or concerns regarding airport authority or operations, please direct those to Texas Aviation Partners at 512-216-6039.