Important Current Notices
Cory Morrow's Go Wheels Up! Texas 2019 Event Information
Date: March 14, 2019 at 11:24 am
As we near the kickoff to the Go Wheels Up! event, we wanted to provide as much detailed information in one place for all of our users and tenants.
Please take the time to thoroughly review all of the information below.
If you still have questions, we encourage you to call the office at (512) 216-6039 or swing by so we can address all of your concerns. If you know someone who would benefit by seeing this information but doesn't receive our emails, please feel free to forward it along!
If you are receiving this email via forward, please 
subscribe
 to our newsletters directly.
The official event hours are:
Friday, May 3 – 5:00PM to 10:00PM
Saturday, May 4 – 9:00AM to 10:00PM
Sunday, May 5 – 9:00AM to 5:00PM
Click on any of the maps below to see them larger.
Tickets can be purchased prior to the event at 
gowheelsup.live
 or at the gate the day-of the event. However, we encourage everyone to purchase their tickets early to help with the flow of both vehicle and pedestrian traffic. Ticket holders can opt to add the Lightning Pass on-site.
Current airport tenants may receive complementary tickets for themselves and a guest by emailing Clayton Corn at 
clayton@vast.events
 NO LATER THAN Friday, April 26.
Complementary tickets are also available for 
volunteers
 and their guests. Be sure to let them know you have aviation experience so they can fit you into spots where you'll be closest to the action!
GENERAL LAYOUT
Please note this is a simplified version of the overall event layout. It does not show fencing or airfield closures and should only be used as a way to orient yourself with the event structure.
Green: Vehicle parking. Visitors will be guided from this area into the event via a controlled access point.
Red: General event boundary which will include ADA parking, static aircraft displays, classic car show, two concert stages, food vendors, kid zone, and vendor booths.
Yellow: All based and transient aircraft will be parked in this area from Monday, April 29 through Monday, May 6 (more information below).
Blue: Used for overflow of transient aircraft during the event or for larger transient aircraft who can not be towed to the yellow area.
AIRFIELD CLOSURES
Anticipated NOTAMs include the following:
Special Event Notice (pilots to contact FBO prior to arrival for information regarding parking and ramp closures)

Tuesday, April 30 through Sunday, May 5

TFR for Airshow Practice (not published as a public event)

Friday, May 3 – 1:45PM to 5:30PM CST

TFR for Airshow

Saturday, May 4 – 1:45PM to 5:30PM CST
Sunday, May 5 – 1:45PM to 5:30PM CST

Runway 8/26 Closed

Friday, May 3 (6:00AM) to Sunday, May 5 (11:00PM)

Taxiway Alpha Closed

Friday, May 3 (6:00AM) to Sunday, May 5 (11:00PM)

Taxiway Bravo Closed

Friday, May 3 (6:00AM) to Sunday, May 5 (11:00PM)

Taxiway Juliet between Runway 8 and Taxiway Charlie Closed

Friday, May 3 (6:00AM) to Sunday, May 5 (11:00PM)

Taxiway Kilo Closed

Friday, May 3 (6:00AM) to Sunday, May 5 (11:00PM)
SPECIAL NOTES:
AIRCRAFT OPERATIONS
Outside of TFR times on each day, the airport will be OPEN to normal operations. However, a little patience may be required!
The map below shows all the areas where aircraft can operate UNDER TOW.
Aircraft may not be started until they reach the hot ramp located at the intersection of Taxiways Alpha and Charlie.
Aircraft will be towed by either Berry Aviation or Redbird Skyport. You will need to contact your preferred FBO directly.
Aircraft currently parked within the event boundary will need to be moved to the west side of the ramp (between Berry Aviation and the T-shelters) by no later than Monday, April 28.
Aircraft will be relocated beginning the week of April 15.
If you are parked between the Kerner T-hangars and Specialized Aero, and wish to move your plane yourself, please notify us by calling (512) 216-6039.
Aircraft will be moved back to the east ramp the week after the event.
Please note that for this inaugural event, aircraft camping is not allowed. However, we hope to add camping to future events! If you plan on flying in for the event, we recommend you arrive as early as possible and contact your preferred FBO to ensure there is space. Any group interested in flying in should contact Clayton Corn to make arrangements ( 
clayton@vast.events
).
VEHICLE OPERATIONS BEGINNING MAY 3 AT 5:00PM
Visitors will enter Airport Drive and continue straight through the gate where Berry Aviation typically keeps their fuel trucks. During the event hours, Airport Drive will be one-way to allow for two lanes of inbound traffic.
Once inside the gate, vehicles will travel straight up the ramp to Taxiway Alpha and then proceed on Runway 8 to parking.
There will be parking attendants and security along the route to ensure vehicles and pedestrians stay within the gates and do not travel on the active west ramp.
When leaving, vehicles will travel along Taxiway Juliet to Taxiway Kilo and exit through the main entrance.
The ingress route is shown in yellow and the egress route is shown in blue in the map below.
TENANT ACCESS
Tenants will be allowed access to their hangars along Airport Drive, however, you will need a ticket/wristband to enter the event boundary. If you anticipate needing access to your hangar on any of the three days, please contact Clayton via email (
clayton@vast.events
) for a vehicle pass to be placed on your dashboard.
When you enter the airport, stay in the right-hand lane. The parking attendants will see your pass on your dash and you'll be able to continue along Airport Drive rather than be forced to turn to parking.
We ask that during the event, your vehicle be parked inside your hangar or in a striped parking area. There will be a lot going on and we don't want anyone not familiar with the airport to think they can park next to hangars. We appreciate your cooperation with this!
---
Notice: Taxiway Delta CLOSED from April 13 through May 14
Date: April 9, 2018 at 2:04 pm
The FAA has flagged Taxiway Delta as a "hot spot" due to its location (adjacent to two intersecting runways) and the fact that it does not conform to the current FAA airfield design standards. With the increase in traffic over the past 12 months, we've received several reports of concerns from local pilots.
To get an idea of how the closing of Taxiway Delta would impact operations, it will be temporarily taken out of service beginning Friday, April 13 and will reopened on Monday, May 14.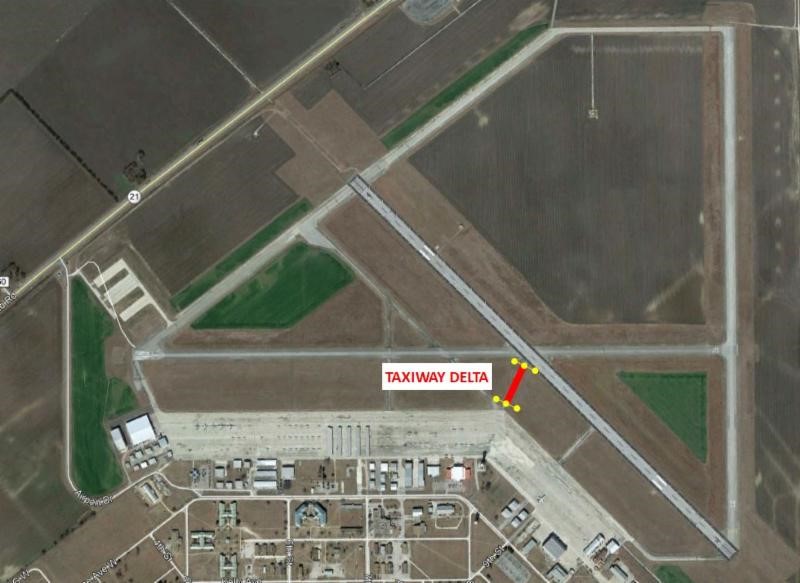 ---
Notice: Taxiway Repairs on Alpha and Charlie
Date: December 10, 2017 at 12:59 pm
Repairs to Taxiways Alpha and Charlie began Monday, November 13 and are expected to be completed by the November 20. Sections will be closed during tower hours only and reopen in the evenings. Please refer to NOTAMS and be sure to communicate with the tower during this time.
If you have any questions, please call the airport management office at (512) 216-6039.
---