Important Current Notices
Take the Airport Master Plan Infrastructure Survey!
Date: November 6, 2018 at 4:35 pm
As we begin the process of updating the Airport's Master Plan, we request your feedback regarding facilities and infrastructure. The survey should take 3-5 minutes to complete. Your input is very important to us!
---
Notice: Taxiway Delta CLOSED from April 13 through May 14
Date: April 9, 2018 at 2:04 pm
The FAA has flagged Taxiway Delta as a "hot spot" due to its location (adjacent to two intersecting runways) and the fact that it does not conform to the current FAA airfield design standards. With the increase in traffic over the past 12 months, we've received several reports of concerns from local pilots.
To get an idea of how the closing of Taxiway Delta would impact operations, it will be temporarily taken out of service beginning Friday, April 13 and will reopened on Monday, May 14.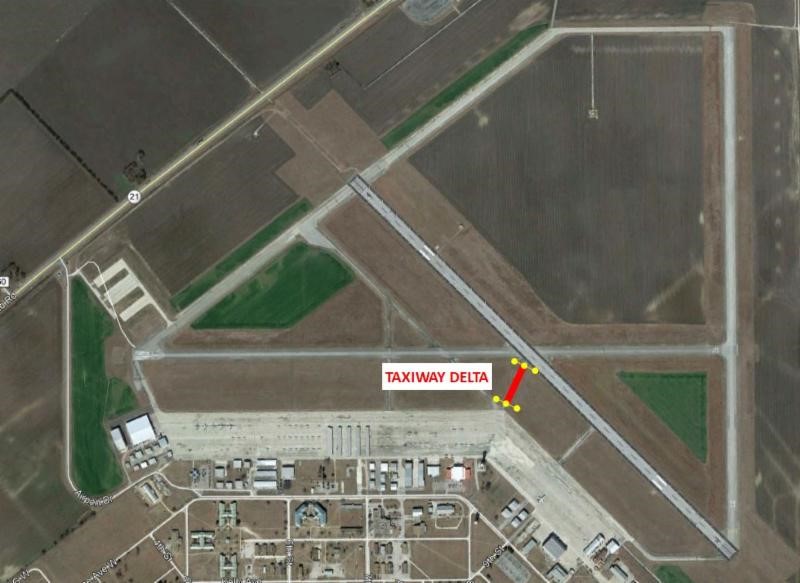 ---
Notice: Taxiway Repairs on Alpha and Charlie
Date: December 10, 2017 at 12:59 pm
Repairs to Taxiways Alpha and Charlie began Monday, November 13 and are expected to be completed by the November 20. Sections will be closed during tower hours only and reopen in the evenings. Please refer to NOTAMS and be sure to communicate with the tower during this time.
If you have any questions, please call the airport management office at (512) 216-6039.
---